Sam Hadelman: A 2020 Visionary
Stetson alumnus Sam Hadelman has gone from the green to greenrooms, as he has taken on post-graduate life in New York City.
Between being a graduate student at Fordham University, planning his new radio show, and living in one of the busiest cities in the world, Sam Hadelman '19 has created quite the life for himself since graduating from Stetson last year. In the time most students would take to watch Netflix, or procrastinate homework in other various ways, Hadelman spends his time working in the career he says he, "accidentally" started. 
On any given night of the week, you will find Hadelman in venues like Baby's All Right or Sony Hall, photographing artists. He says this accidental career started last winter, when he went to see a performance by the rap group Griselda Records. 
Hadelman explained, "I really wanted to photograph the event, but you can't really bring like, real cameras into venues. So I brought a disposable camera, like the ones you brought on vacation back in 2007, and I hid it up my sleeve." After photographing rapper Benny the Butcher, he sent the developments to the rapper's manager, who then asked Hadelman to photograph some of their merchandise. 
On the second day of his accidental photography career, Hadelman shot some photos of the merchandise which ended up getting around 8,000 likes on the rapper's Instagram account. 
Since this event, Hadelman has photographed Westside Gunn, Lil Yachty, legendary fashion designer Dapper Dan, football star Marshawn Lynch, Black Panther director Ryan Coogler, and many more – all with a disposable camera.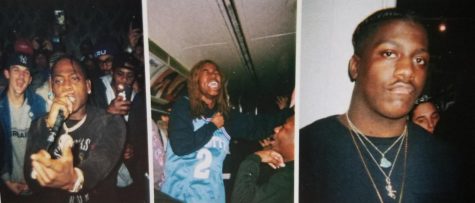 When discussing his 2020 plans and whether or not he has found his calling, Hadelman said, "I have no idea. I'm just putting a bunch of shit out there that I think is important. Being extremely organic and having things that I think are interesting at the forefront of my work is what is most important." 
He also detailed that one of the first times he saw this being a career option was when he started his radio show, "The Sam Hadelman Show," on Hatter Network's own WHAT Radio. "I was just having fun. I always thought I would have a normal job, and I would just like music. I was always scared to make it my career."
Hadelman explained that he was scared to commit to any specific career path, whether it was writing, radio, or photography, because he was afraid of becoming a critic and losing that sense of fanhood. 
However, he says photography and being able to interact with these artists on a professional level has only made his fanhood stronger. In an passionate ramble he said, "with rap, with music, it's different. At some points I'm like, 'oh my God, this artist has an even greater aura than I thought before.' It all just adds to the experience." 
"
Those moments instilled a confidence in me that no one can drop. It showed me that if no one believes in me, as long as I believe in me, I'll make it the farthest."
— Sam Hadelman
When discussing his transition from life at Stetson to starting a career in New York, Hadelman reflected on things he learned at Stetson that have helped shape him. "Stetson is a really blank canvas, in the best and the worst way. There isn't much precedent set on media, so I was able to do a lot of stuff that I might not have been able to do at other places, play whatever I want, uncensored music. But when there are no rules, people in charge can make rules when they want to put a cap on what you're doing. The perfect analogy is putting the radio studio right next to a study room. Sure I can play whatever I want, but if I play it above the volume of an iPhone speaker, I'm disrupting other students and I get noise complaints." 
Hadelman explained that there were many moments where he felt Stetson encouraged his creativity, but also other times where he felt his creativity being suppressed, and for him, those were his defining moments. He said, "Those moments instilled a confidence in me that no one can drop. It showed me that if no one believes in me, as long as I believe in me, I'll make it the farthest." 
He continued, "When you're there, you are at the smallest school in the smallest town, and sometimes all you have are your passions. So I capitalized on that and realized there were people there who liked what I liked, and wanted to hear what I had to say. That solidified a lot for me."
As far as the future goes, Hadelman says he has a list of priorities. He stated, "really my priorities are as listed: not almost getting my ass beat for these photos, meeting more people who I really enjoy their art, and meeting Lil Uzi Vert, in that order." 
Leave a Comment