The Artistic Process: From Idea to Fruition
Artistic vision tends to change over time from its original idea to its final product; creators are flexible when it comes to the process of their craft.
Rene Campbell, Arts & Culture Editor - The Reporter; Associate Editor of Touchstone
March 13, 2020
It can be easy for consumers of art of any kind to be misled by the final product. Behind every painting, song, and movie, there is an immense amount of behind-the-scenes work that goes into its creation. Oftentimes, the final product is a compilation of fragmented ideas which evolve over time; the process of creating is never easy, but it is the difficulty of an artistic journey that allows for the final result to be even more admirable.
Stetson is home to boundless amounts of flourishing creativity. Gracie Caggiano '21 and Gracie Lookadoo '21 write, record, and produce their own music under the moniker August Moon. Caggiano, who provides the lead vocals for the duo, and is heavy-handed in the lyric-writing and composing process, captured the flexible nature of the creative process.
"
There is something that both creators and consumers of art share: the love for completed work."
— Rene Campbell '21
"I don't always expect that ideas will change, but after playing through songs multiple times and going through the recording process…We will put together some ideas and find that less or more is necessary – for both practical and artistic reasons," Caggiano said.
Lookadoo also had strong feelings about their creative process. She stated, "[The songs] change so much from birth to fruition…it's more like a lifecycle than a timeline."
The evolution of a work of art over time can come with uncertainty as to when a work is completed. Satisfaction can be hard to come by when an idea is not directly translated to a final product of its same likeness.
When asked about the idea of being satisfied with her work, Caggiano answered, "[Satisfaction] comes in when the close friends or audience members we share a song with are very receptive to it." 
During the creative process, there is always the question of what drives an artist to work on their craft. There is often the individual, personal motivation for creating. But, as Caggiano states, there are often artists who create not only for themselves, but for followers of their work to enjoy as well.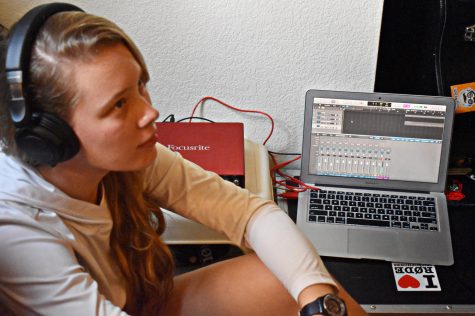 Lookadoo also connects her own personal love for her creation with her audience's love for it, "I'm satisfied when I see people react to our art the same way we did when it was a bright and shiny new idea. Performing [our songs] live is a great way to gauge this reaction." 
It can be overwhelming at times for artists to share their work with others. As both Caggiano and Lookadoo have expressed, for them, the creative process means that much more when their efforts are appreciated by their audience. 
Ultimately, when artists go through the creative process, their first idea never directly stays the same until their finished product. The process of creating is all about embracing change in order to work towards something that is both internally fulfilling as well as able to be enjoyed by others. 
There is something that both creators and consumers of art share: the love for completed work. The process to arrive at that point, as experienced through the words of Caggiano and Lookadoo, displays that the artistic process is in no way an easy feat. It requires time and the ability to adapt and change. Artistic vision is as much about the journey to create as it is the final result.