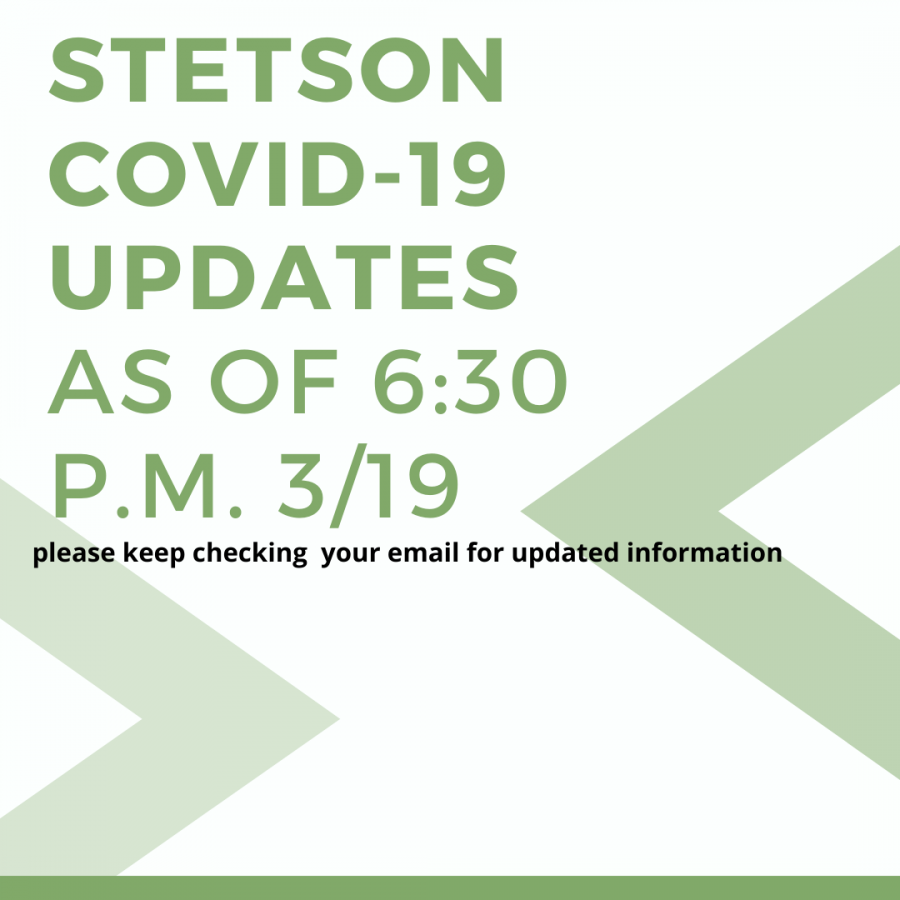 Bella Steiert
HEALTH – STETSON CLIMATE
If individuals are in contact with exposure to COVID-19, they might be exposed, Stetson Health Services will be in contact with the Florida Department of Health, and Florida Department of Health will make decisions from there. 
With a large number of students executing campus, there will be a lower student to staff ratio, which means that resources and help may be attained quicker. 
If you plan on traveling, it is recommended to stay off-campus to reduce the excess to Stetson climate. 
There is not much concern as of now on campus, possible exposure should still be limited. 
Reminder from The Office of Community Standards: 
If you choose to stay, it's your responsibility and their our guidelines for those that make bad decisions and for possible risk of others.
EVENTS
On-campus tours, with groups of less than 10 are still happening.
Commencement 
At 11:03 a.m. today, President Wendy Libby announced through an email how special commencement is each year for celebrating successes and achievements, but recent information from CDC restricts gathering to no more than 10 people for the next two months, social distancing. Seniors will still be completing coursework and other requirements on time and seniors will still receive diplomas in the mail. Because of this, commencement has been postponed. As commencement details are being worked on, seniors will be contacted for feedback and input on the next way for celebrations to occur. 
ACADEMICS
The plan for departments and courses went through revision.
All credits will be satisfied.
All labs may be done virtually.
For studying abroad, providers might be making decisions for summer study abroad trips. 
Having courses taught online is not new for Stetson, so we have the necessary resources. 
Attendance policies and requirements are still to be followed.
If you're choosing to stay on campus, there will be access to labs and practice rooms.
These areas will be cleaned, disinfected, and locked for a while. 
 SERVICES 
Most services will still be available, but facility hours might change to accommodate the availability of students. 
If you have extra food, it may be donated to Hatter Food Pantry. 
The post office is open (hours might be adjusted).
If the internet is down, please contact IT.
There is 24-hr Blackboard support. 
Tutoring & career coaching services will be available and conducted virtually. 
Most SPI's are using Blackboard Collaborate. 
Information on career coaching services being conducted virtually will be announced soon. 
Library 
In an email sent at 12:10 p.m. today, Betty Drees Johnson Dean of the Library and Learning Technologies, Susan M. Ryan, announced that operations were evaluated to follow CDC guidelines.
The following will be effective as of, tomorrow, Friday, March 20 (and may be readjusted): 
Hours have been adjusted to be:
Monday-Thursday: 8 a.m. to 8 p.m. 
Friday: 8 a.m to 5 p.m. 
Saturday: 11 a.m. to 5 p.m. 
Sunday: 11 a.m to 8 p.m. 
There will be no interpretational assistance except for checking out material. 
All other requests for assistance will be met via phone, mail, or Skype.
Both the Innovation Lab & Archives Office will be closed.
Only two to three members of the library staff will be in the library on operating bases. Everyone else will be working remotely.
Hollis Center 
Lua Hancock, Vice President of Campus Life and Student Success, announced through an email that the Hollis Center will be closing after tomorrow, Friday, March 20. This decision was made lightly to take significant precautions to keep Stetson safe while continuing to offer fitness and recreation space, however, due to the rapid evolution of COVID-19 temporarily closing the Hollis Center is the right precaution to take. 
For the most up to date information on virtual health and programming on well-being, fitness opportunities, online intramurals, and incentives be sure to follow Well Team and Intramural Sports and continue to check Stetson Today for announcements. 
HOUSING 
Residential Living and Learning Office is open in University Hall for questions and check-out from 8 a.m. to 8 p.m. including weekends.
You may also contact the RA on duty to return key.
The deadline to submit the What's Your Plan form is tomorrow, Friday, March 20. 
Commuter students still should fill out the form as well. 
Check email for consolidating.
Residential Living and Learning will be adjusting plans residential hall between March 24 to March 26. 
On March 27 and March 28, new rooms will be assigned. 
If you have any accommodations or request, simply fill out stay on campus form again.
Everyone will be consolidated into single spaces, like apartments. 
There is travel support for moving out provided from Residential and Learning Life on March 28. 
There will be more information on this sent out in an email. 
RAs are there to assist in stress and anxiety and disturbing routine.
Greek houses will be closed for safety and security.
There is now a limit of one visitor per resident.
ETC 
If you're looking for a job, you may contact student employment.
Parking information is being figured out.
How to disperse student activity fees is being figured out.
Publix is open from 8 a.m. to 8 p.m. to accommodate more time needed to restock. 
Stay updated with Stetson's COVID-19 Website for more information.