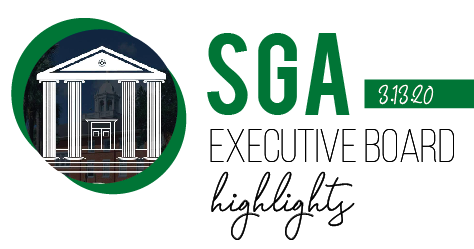 Due to the university's decision to move all classes online, and the fact that many students will be leaving campus within the next few weeks, there was an emergency SGA Executive Board meeting this evening. During this meeting, SGA's Executive Board has made some decisions that will directly impact SGA for the remainder of the semester.  
The SGA's Executive Board has considered it necessary to take some measures that usually would not be placed. 
More announcements, particularly regarding finance, will be made in the coming days and weeks.
Elections
The SGA's Executive Board discussed the possibility of holding the spring elections given the circumstances that we are in. 
The consensus was to postpone these elections because it is not practical for an entire campaign season to be held using online platforms 
In order to ensure that the next SGA President, Vice President, and Senate are elected fairly, it has been decided that the next election will be held in the fall. 
SGA's Executive Board has determined election dates to be around Sep. 16.
Postponing the elections allows the SGA election to run with full and fair procedures followed while ensuring that the next SGA is brought in as soon as possible.
Deadlines for declarations for candidacy will be worked around that date. 
All SGA positions will remain the same through the remainder of the semester and through the summer.
Due to this decision, it has also been decided that all positions of SGA will be selected at the same time. 
Senators who are members of the Class of 2020 that are graduating will no longer be senators as they will no longer be students at Stetson.
Senate 
With most of the students leaving campus, it is not viable for SGA to continue holding regular business, therefore, the SGA executive board has decided to not have any regular Senate meetings for the remainder of the spring semester. 
While SGA will not be holding regular Senate meetings, still remain in digital contact with SGA if needed. 
SGA is still held accountable for representing the student body and wants to hear about any concerns and issues.