Stetson Celebrates 4th Annual Hatterthon, Raises Over $84K for Orlando Health Arnold Palmer Hospital for Children
Stetson held its fourth annual Dance Marathon Saturday for charity for the Arnold Palmer Hospital in an event known as Hatterthon. 
Hatterthon, as a campus organization, holds events throughout the year, but designates this all-day fundraising effort as its main event. It is part of a larger nationwide effort called Children's Miracle Network that fundraises for children's hospitals and medical research. The organization sponsors Dance Marathons hosted by schools and organizations to raise money for hospitals across North America.
The event, which was held in the Hollis Center, began around 10:30 in the morning and lasted until 10 p.m. Students enjoyed several games and events, including a lip sync battle, Mario Kart tournament, and even a "rave" on the Hollis Center basketball court floor.
Throughout Hatterthon, parents and children of Orlando Health Arnold Palmer shared their stories with the students that attended throughout the day.
One woman, Karen Jacobson, shared her touching story of tragedy and resilience towards the end of the night in a segment called "Circle of Hope", "You guys have created a legacy… The memories that you've made this year, the tears that you've cried this year, they matter. It all matters."
Jacobson, who stood in the middle of dozens of students holding hands in a circle, told the crowd about how her two boys are actually born triplets.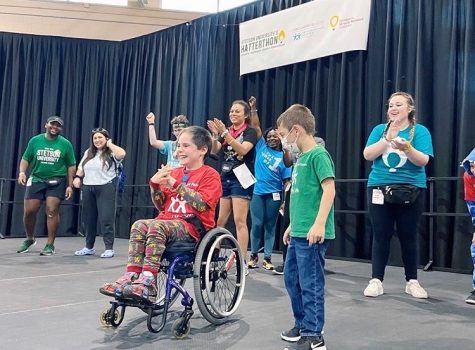 "There should be three of us in here," Jacobson said. "We lost our son Hunter at four days old. But, I am very thankful to Children's Miracle Network because I had those four days with him, because of CMN."
Some tears were certainly shed, but there were also smiles, laughter, and dancing at every step of the event.
During the award ceremony, it was announced that the three organizations that had raised the most money for Hatterthon were Pi Kappa Phi, Phi Sigma Kappa, and Alpha Chi Omega. Categories for the award were based on size, with Pi Kappa winning the award for organizations under 25 members, Phi Sig for organizations between 25 and 50 members, and Alpha Chi winning for organizations larger than 50 members.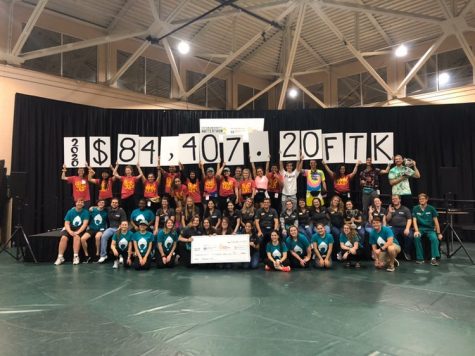 The highlight of the event, the "Big Reveal," featured members from the executive board each holding up a sign with a number on it. They gradually revealed the record-breaking total amount raised for the hospital: $84,407.20.
It was at this moment that the noise inside the gym reached its crescendo – the entirety of the gym leapt up on its feet and cheered, as the fundraising effort beat last year's mark by over $20,000.
The total reveal was the most climactic part of the event for Katherine Britt ('21), a member of the Hatterthon executive board. "You can't describe it," she said.
Hatterthon touched not only the children and families of Orlando Health Arnold Palmer, but the students who participated as well.
"I was born three months premature," said Kevin Sullivan ('20), a Hatterthon morale captain, on his motivation for joining the Hatterthon team. "So I was in the NICU, and unfortunately there were a lot of babies around me that never made it out of the hospital and passed away. So I thought it'd be really cool to give back in some way."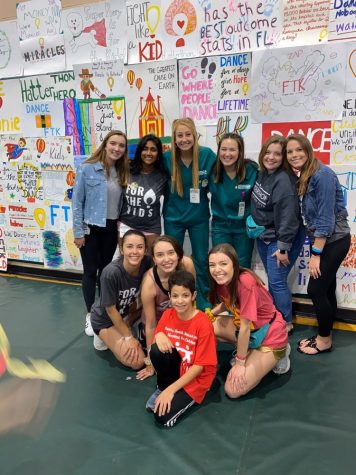 Next year, the Hatters will look to continue to raise both money and morale "for the kids" in the 2021 Hatterthon.
"I think it's important for us to be concerned about more than just ourselves, about our community," Britt said. "There are so many amazing causes out there, but I think that everybody knows that children deserve to be children, they should not be sick, they should not be dying at a young age. I think what we do helps raise awareness, for one, and funds, for another."
Leave a Comment
About the Contributor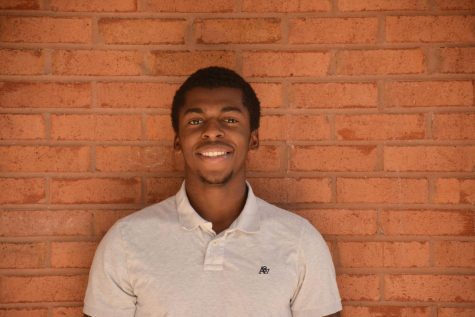 Ihsaan Fanusie, Sports Editor
Ihsaan Fanusie is the sports editor for the Reporter, as well as a writer for the news and sports sections. He enjoys reading and writing and can be found...