SGA Highlights – 12/4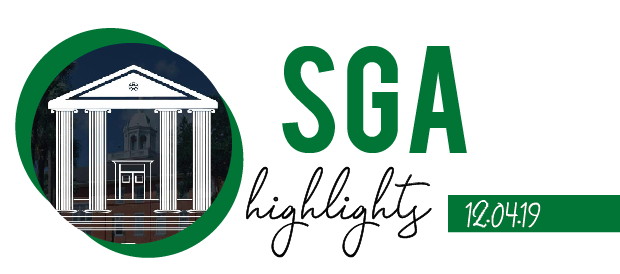 Parking Ticket Forgiveness Day 
For Parket Ticket Forgiveness Day, on Monday, Dec. 9, from 10 a.m. to 1 p.m., bring $10 to $15 worth of canned goods in exchange for a pardon on all outstanding parking tickets to the SGA conference room. All goods will be donated to the Hatter Pantry. 
Ticketing Distribution: Spring 2020 Commencement 
The tickets used for commencement are digital. Because the limit is for five tickets to be allocated to each graduating senior, there will be additional questions added to the graduation application. These questions include "How many tickets will you need?" and "Do you need additional tickets? If so, how many?"  These questions will be added to allow SGA to know the number of tickets necessary and know the number of unclaimed tickets. 
The redistribution pool for tickets will begin as soon as the application is due. The redistribution pool will be a rolling process for two to three weeks after the application deadline. Tickets will be added on a first come first serve basis based on when the seniors submit their application. An email notification will be sent for students to confirm and claim their tickets. Seniors will have 48 hours to claim their additional tickets. If the tickets are not claimed within 48 hours, the ticket will be redistributed. This process will end when all ticket requests have been filed or when the pool of extra ticketing pool is empty.
Ticket distribution will be communicated with seniors clearly at several times and well in advance. SGA will be aware of the special circumstances involving international students whose families have plans and arrangements for travel, such as visas. SGA will work to accommodate them as fairly as possible. 
There will be designated locations for live-streaming the commencement ceremony for those that cannot attend at several locations on campus. The commencement will also be live-streamed online.
At this senate, all of the SGA Senate has approved ad voted unanimously of this plan for distributing tickets for commencement. SGA is now working on presenting this plan to  Administration to allow this plan as closely as possible.  
Campus life 
Chair of Campus Life, Robby Mahalo ('21) is working on getting in contact with the City of DeLand to get electric scooters on campus. More details to come. 
---
Upcoming Events 
The Second Annual Cross-Cultural Holiday Celebration: The Christmas Story – Carribean Student Association (CSA) & Rotaract
Time: Today at 6:30 p.m. 

Location: CUB Garage 

There will be sweet treats, a hot cocoa bar, live entertainment, giveaways, and gingerbread houses. Stockings will be made for kids. 
Late Night Breakfast 
Time: Tomorrow, Friday, Dec. 6 from 9 p.m. to 11 p.m.

Location: CUB Commons 

Theme: '90s Pajama Party
Event in honor of Martin Luther King Jr.- Office of Diversity and Inclusion (ODI)
Date: Wednesday,  Jan. 15, the first Wednesday when we get back, 

Time: TBD

Location: Stetson Room. 
Follow SGA for updates.