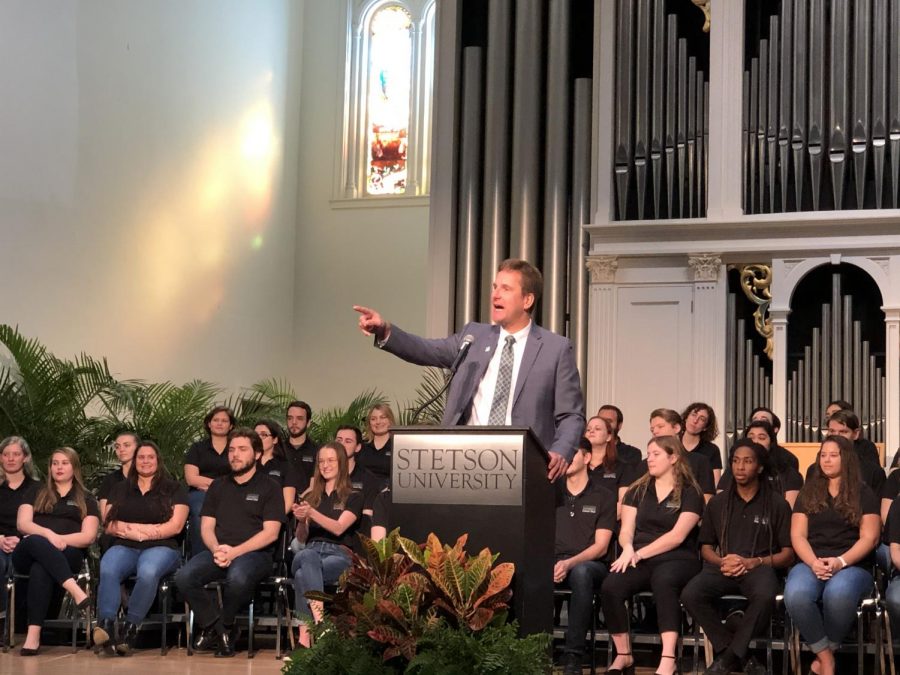 Ashton Craig
         Today, Stetson welcomed president-elect Christopher F. Roellke, Ph.D. in Lee Chapel. Following his remarks, a light reception in Palm Court was held and students could meet the president-to-be. 
         The event began with a special performance by the School of Music's Concert Choir of the gospel song "Walk A Mile." The piece was introduced by Max Wolf ('20) as a song whose message shared Stetson's values of diversity and inclusivity through the lyrics, "walk a mile through your neighbors' shoes." The piece felt conversational and optimistic, and was met with a standing ovation at its conclusion.
         The first speaker to introduce Dr. Roellke was President Wendy Libby, Ph.D. Her welcome was heartfelt, emotional, and had moments of humor, all while prioritizing the values that Stetson upholds. She said the campaign that was led by the Presidential Search Committee as "guided [by] what is best for our students." She feels gratitude toward the Stetson community and stated that she is "so proud to pass on the torch" to Dr. Roellke.
         Joe Cooper ('79), M.B.A. ('82), chair of the Stetson University Board of Trustees, spoke as the chairman of the Presidential Search Committee. He began his speech by expressing gratitude toward Dr. Libby and the work that she had done during her presidency. Cooper stated that Stetson has "grown stronger, smarter" and has been "dedicated to students." He then explained the diligent process of the Presidential Search Committee to search for the "best president possible." Cooper shared Dr. Roellke's past experience and accolades before welcoming him to the podium.
         Dr. Roellke was welcomed by the audience of students, faculty and community with an eruption of applause. He stated, "being selected as the 10th president is the greatest honor and privilege of his professional life." After an introduction of his family members and wife, whom he met when they were both Residential Assistants at his undergraduate institution, Wesleyan University, Dr. Roellke shared his gratitude to Stetson, and said that he was "committed to lead" the school and that its values will lead to "good outcomes to our students." Dr. Roellke felt that it was "premature" to share what his "outline" of what he expects to get done at Stetson, but he shared his priorities with the audience: to make the university available to students of diverse backgrounds, promote rigor in each college of the school, strengthen the university's finances, show a commitment to diversity and inclusion, and promote rich and challenging opportunities. Dr. Roellke wants to build off of the "very positive momentum" that Dr. Libby created during her presidency. To conclude, he shared a profound Fred Rogers' quote: "There are three ways to ultimate success: The first way is to be kind. The second way is to be kind. The third way is to be kind."
         During the light reception, I spoke with vocal performance major Vanessa Moya ('20) about the event, which she enjoyed. She sang as a part of the Concert Choir for the event. Moya worked on rehearsing the piece "since the beginning of the semester" and the piece has been used before for a couple of university events such as Homecoming. She spoke on behalf of the students of the School of Music for some requests that they have for Dr. Roellke: "a concert hall," "a bigger music building," and "more practice rooms." The School of Music, just as other parts of campus, desire help from the President-elect when it comes to the growing pains of higher enrollment. Dr. Roellke has big shoes to fill in on campus, and the students have a vision for what they see the campus turning into. Much work needs to be done on campus to maintain its positive momentum, and we hope that Dr. Roellke will collaborate with student voices during his presidency.