SGA Highlights – 10/9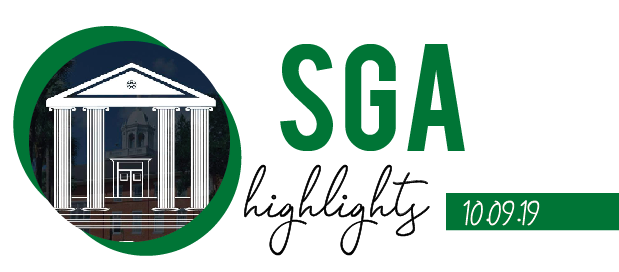 HATTERTHON 
Chloe Morello's Miracle Story from Orlando Health Arnold Palmer Hospital For Children 
To demonstrate the direct impact and how much Hatterthon contributes to Orlando Health Arnold Palmer Hospital For Children (Orlando Health Arnold Palmer), Chloe Morello is a miracle child that was diagnosed with a brain tumor on Christmas Eve when she was 4 years old. The night before Christmas Eve, Morello came into the emergency room of the hospital vomiting and had a headache, and trouble walking. Morello was taken care of by Childhood Cancer Specialist, Alex Larry, Ph.D. 
When an MRI was performed on her brain, it was found that she had a malignant brain tumor. After her family, who were in the family room, heard the news, the first thing that was asked to Dr. Larry from Morello's dad was "well, will I ever get to walk my daughter on her wedding day?" At that point, Dr. Larry's response was "I don't know, but we're going to try damn hard to make that happen."
Morello went through three surgeries to get the tumor removed because the tumor kept on growing back. Morello also went through chemotherapy for over a year and a half. 
A year and a half later, Morello is showing no symptoms of the brain tumor, and is living a healthy life and back in school. Dr. Larry said to Morello's dad that "the only thing I ever want is to be able to go to her wedding one day." Dr. Larry was not only invited to Morello's wedding but also walked her down the wedding aisle. Dr. Larry's response to the invitation to walk Morello down the aisle was: "I'll probably retire after because I don't think there could be a greater high or sense of fulfillment after that." 
What is Hatterthon?
Hatterthon is Stetson's dance marathon organization that raises money throughout the whole year to donate to our local Children's Miracle Network Hospital, Orlando Health Arnold Palmer Hospital. Hatterthon is part of Miracle Network Dance Marathon, a national movement to raise money and awareness for child healthcare. Hatterthon directly impacts the lives of miracle children, like Morello. Hatterthon raises funds for the best and only the best healthcare provided to be provided to the miracle children at Orlando Health Arnold Palmer. 
The Power of One campaign has stated, "Every single person has the ability to make a difference in this world." The Power of One campaign promotes the idea that anyone can make a difference. With that being stated, students have the opportunity to save children's lives through Hatterthon. "This generation fighting for the next." Without money, a cure cannot be found — hospital equipment is essential to life, yet it is very, very expensive. The doors to Orlando Health Arnold Palmer Hospital For the Children are always open. 
Hatterthon is on Feb 22, 2020, in Hollis Center, from 12 p.m. to 10 p.m.
Register for Hatterthon here.
The registration fee of $7. A t-shirt is included.
OPEN SEATS
To fill in senator positions for SGA, seats will be appointed by application and then through interviews by the SGA President and Vice President. The application is available on Hattersync.
TRAFFIC COURT
To appeal the fine for parking tickets, SGA holds traffic court. If you received a parking ticket that you feel is unfair, you may make an appeal to the University Traffic Appeals Board. The University Traffic Appeals Board consists of three student members of the Student Government Association.
TASTE OF WORLD- RECAP 
For the Taste of the World event, 184 student IDs were scanned for cultural credit, 225 students received merch from the event. Everything that was originally at the event was gone. Students still came to the event after the shirts were all given out. 
BILLS 
In Senate on Oct. 10, during the 84th

senate, two bills were passed. 
S1: Taste of the World Bill 
This was the first bill of the year to be passed. This bill was passed at 8:22 p.m. and is applicable to the Taste of the World that just occurred on Oct. 8, 2019.
As part of SGA's partnership and sponsoring Taste of the World with MSC, this bill states that SGA contributes:

A total of $4,620

$1,750 for shirts 

$ 400 for cups 

$400 for bags 

$70 for buttons 
S.2. Student-Athlete Seats 
This bill was passed at 8:32 p.m. and in effect now. 

Bill S.2 is an amendment to the SGA Bylaws that proposes two seats in the senate be reserved for varsity student-athletes. Out of a total of 4,330 undergraduate and graduate students, there are 259 athletes. This bill is in place so that student-athletes may be accurately recognized so that there is an accurate representation of the Stetson Athletic Department (SAAC). 
EVENTS
 "Lion in the Winter" by James Goldman
Times: 

Oct. 10 through 10/12: 8 p.m.

Oct. 13: 3 p.m.

Location: 
600 N. Woodland Blvd, Deland, FL, 32823
Tickets: 

$12 for adults 

$10 for seniors 

Free for Stetson Students, Faculty, and Staff with Stetson IDs

Cultural credit will be available for Stetson Students. 
Corazon de Herencia- Heritage Heart Festival 2019 (CSA)
From 4 p.m. to 6 p.m. on Friday, Oct. 11 at Lee's Garage, the annual Heritage Heart Festival will be happening. Cultural credit will be offered. At this celebration of the Latin-Carribean, there will be live entertainment & food. Learn about the cultures of Cuba, Puerto Rico, Dominican Republic, Panama, Colombia, and Venezuela.
Dunkin' for Donors
This event will occur on Oct. 15, from 11 a.m. to 3 p.m. at the Templeton Fountain. 
This event is hosted by Green, White, & You. You may dunk people for free and there will be free doughnuts from Dunkin' Donuts, and educate yourself on the impact that Stetson donors have on Stetson.
Indigenous People Celebration 
From 6 p.m. to 8 p.m. on Monday, Oct. 14 at LBC 222, there will be a celebration for indigenous people. There will be cultural credit offered. 
Fall Internship Career Expo 
The Fall Internship Career Expo will take place on Friday, Oct. 25 from 12 p.m. to 3 p.m. at the Hollis Center Rinker Fieldhouse. This Career Expo is a way to connect with organizations and employers from a wide variety of internship sites and job opportunities. A comprehensive list of organizations and employers that will be present can be found on HatterJobs under "My Events". Remember to bring an updated copy of your resume.
Dining survey 
To take this year's Dining Survey click

here

or text "TPJU" to 99299.

In previous years, this dining survey has helped Stetson Dining develop and make changes and improve.

If 400 people complete the survey, there will be a drawing for one individual to get a $100 Visa Gift card.