A Bounce Back Mindset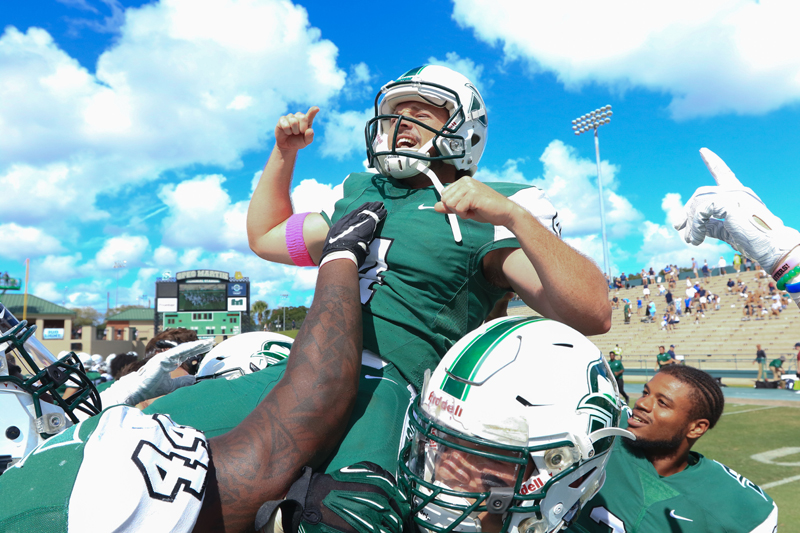 Having a tough mindset in society today not only builds strong character but teaches individuals to persevere through adversity and troubling times. For athletes, battling through adversity is what separates the good from the great, and the Stetson Hatters must decide what kind of team they are going to be.
         As the Stetson Hatters football team returned to DeLand from Poughkeepsie, New York, the team was met with their first moment of adversity of the early season. The Hatters came up short in their thrilling 4 quarter battle on September 9 against conference foe Marist College. The team's last quarter efforts unfortunately weren't enough, as they fell to the Foxes 26-23 after failing to score on their last drive with 58 seconds left in the 4th quarter.
         The Hatters were led through the air by graduate student Gaven DeFilippo completing 35 of his 60 passing attempts for 301 yards with 1 touchdown, while the run game accounted for 162 yards between the three headed monsters of Jareem Westcott '22, Jalen Leary '23, and redshirt Chase Blackmon '21. The defense was able to get its 6th turnover of the season thanks to the effort of redshirt Jamieson Craske '20.   
         As the Hatter's prepare for the remaining stretch of the 2019 season, the key to victory and success is nothing more than having a non-complacent and championship mindset. Freshman offensive lineman Avery Samuels '23 discussed not taking opponents lightly in practice for the rest of this season. 
         "It was a game we could've won," said Samuels '23 of the Marist game, "and it stung because it was mental mistakes that cost us, but going into practice this week I'm making sure I know all my assignments because even though they're a D3, they're still a good team." 
         Samuels '23 was referring to the Hatter's mistake-free mentality they took against the Western New England University Golden Bears on September 21. The team came up victorious defeating the Bears 59-28 in a convincing win to improve to a 2-1 record. 
         This 'bounce back' mindset has propelled the Hatters to a 4-1 record. Wins against both North Carolina Wesleyan University on September 28th and Butler University on October 5 exemplify this trend. 
         Their first conference win over Butler University came down to the final seconds on October 5, ending with a field goal from redshirt Johnny Messina '21. This win was especially meaningful for the Hatters, defeating the Bulldog for the first time in program history. 
         The Hatters have taken this mindset and made it a way of life, out-scoring their opponents by a cumulative score of 144-76. With 6 games remaining on the schedule the Hatters are right where they want to be: controlling their own destiny to win a PFL Championship for the first time in school history.