Nicolasa
Global Citizenship and a Guatemalan Weaver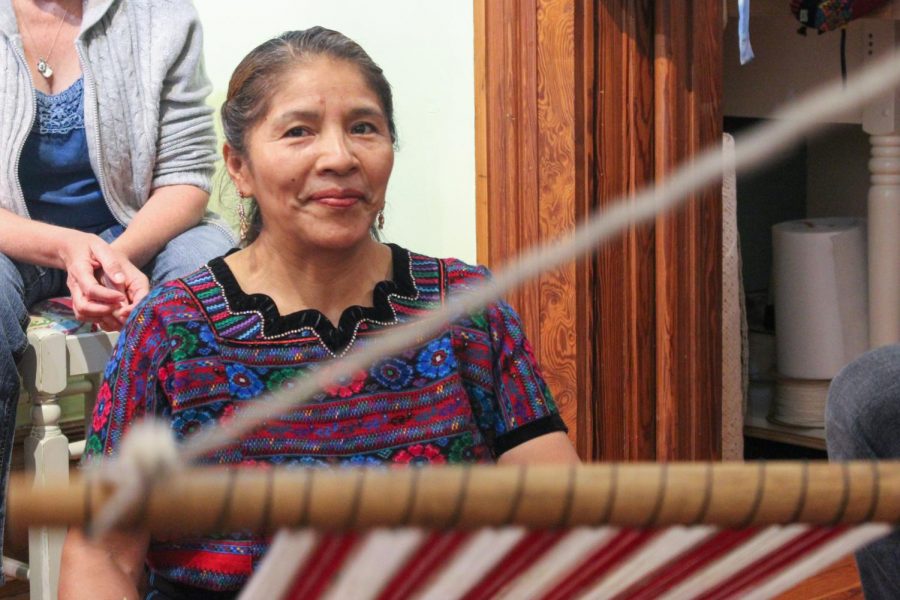 On Wednesday, March 20th, Nicolasa Jerónimo Ramírez led a weaving class at Fabrications, a fabric and yarn boutique in downtown DeLand. That evening, conversation flowed over glasses of wine. Broken bits of Spanish drifted in and out of the rooms… The 128-year-old building was filled with local craftswoman eager to learn the Guatemalan weaver's intricate technique: brocade work on a backstrap loom.
As Nicolasa begins, she sits down, placing her loom in her lap, and meticulously weaves the vibrant thread over and under the thick straps. Her fingers glide effortlessly over the loom, and she quickly eases into the complicated process. Nicolasa has been weaving since she was ten years old, which is uncommon for young women in her village, where the trade is typically learned at age six or seven. She explains that her loom is homemade; random pieces she finds in the garbage dump, such as a PVC pipe, a broomstick and the blind handle from a window shade. Her designs are vivid, with complex patterns and bright colors.
Robert Sitler, a Spanish professor at Stetson, and one of Nicolasa's longtime friends, translated the evening. Nicolasa speaks fluent Spanish, and "Mam", one of 21 ancient Mayan languages. She grew up in Todos Santos Cuchumatán, a village in Guatemala. The Guatemalan weaver moved to the United States 14 years ago and is currently working in rural Delaware as a house maid. Nicolasa spent a week in DeLand, speaking with Professor Sitler's Spanish classes, selling her products in Palm Court and collaborating with local craftswomen.
Programs like Nicolasa's promote one of Stetson's core values: Global Citizenship, "to prepare students to be informed, active, and engaged citizens of both local communities and the world." During Nicolasa's visit, I was given the opportunity to speak with her, discussing key components of her culture, and listening to her moviesque testimony; one of poverty, war and admirable perseverance. Her presence also connected me with the local craft community here in DeLand, a group of motivated, creative men and women that contribute to DeLand's unique individuality. Overall, Nicolasa's visit to DeLand and appearance on campus advocated for global citizenship and, for me personally, involvement in the community that is building us into global citizens.